The Rolling Home x Stitches + Steel Awning collaboration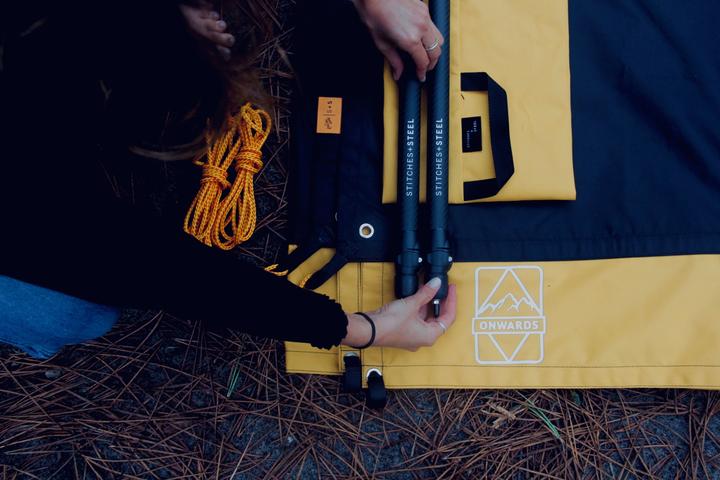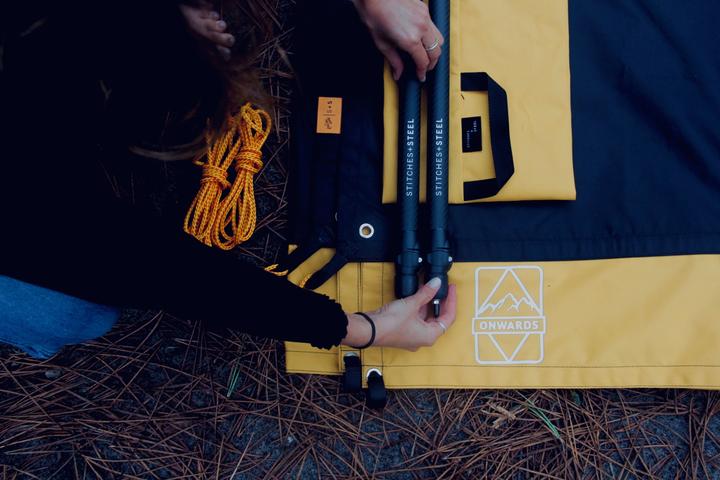 sold out
The Rolling Home x Stitches + Steel Awning collaboration
Check out the Stitches + Steel blog to learn more about this collaboration Here
'We share an ethos with Stitches + Steel. Like us, they built a company based on what it means to adventure in vans; catching ferries, searching for waves and opening (well deserved) beers with friends at the end of the road. They design products with purpose. Things that make life a little easier and van dwelling more enjoyable. Equipment that is simple, rigorously tested and looks bloody great.
For years we have used a sketchy make shift awning; a blue tarpaulin tied to the wing mirrors of our van and some old tent poles. For the most part it worked, it kept the rain off. Sure, it rubbed against the paint work in high winds and threatened to fly off permanently on many occasions. But it sufficed.
Now I am happy to say the bodged awning has retired and in its place is a rail and canvas awning from Stitches + Steel x The Rolling Home. In our own colour-way with the Onwards logo emblazoned on the front. Held up by lightweight carbon fibre poles and a sweet canvas bag to store it all in.
A collaboration with Stiches + Steel was always on the cards, creating rad things with rad people is what life is all about'.
KIT CONTENTS
The V1 Awning
The V1 awning is a compact, low-key addition to any van, we consider this a universal kit. It works well with both Short wheel base and LWB vans.
It's simple, well thought out, less its more nature means it is still our best selling product and is our personal go-to 90% of the time.
Black Awning canvas 2.45m Long, 1.85m Wide, 8mm bolt rope. The guy ropes are made from Maffioli and the webbing is sourced from the sailing industry. The awning comes in it's own canvas stow away, drawstring bag.
*For the VW California a 'Driveaway Kit' may be required in order to adapt the standard rail to fit the 'B1 Awning' bolt rope.
Option: Steel Poles x2
A pair of steel poles, screw fastening, adjustable height.
Option: Carbon Poles x2
The poles are 3K Pre Preg, roll wrapped 100% carbon fibre. They are telescopic and will collapse down to 1m, extending to 1.8m at full length and have a 25mm internal, 27mm external diameter.
ADDITIONAL ACCESSORIES - visit Stitches + Steel store for matching accessories - Here

Pegs + Awning Rails
Please note, we have numerous options for pegs and awning rails, all of which work with our V1 Awning.
DETAILS
The canvas is made using the same machines and skilled hands that make sails for round the world racing yachts through to Olympic performance dinghies. Whilst our carbon accessories are made up of 3K Pre Preg, 100% pure carbon fibre from a factory more at home supplying products to the aviation industry.

The Awning fabric was originally developed for umbrellas. We've added a PVC backing to it in the pursuit of a greater tear strength.

Awning Dimensions: 2.45m (L) 1.85m (W), 6.5mm (D) Bolt Rope

Pole Option, Carbon: 100% Carbon Fibre. Extended 1.8m (L), Collapsed 1m (L), 27mm (D)

Packed Dimension: 135cm (L), 22cm (W)
As much as we would love to be able to guarantee the V1 Awnings waterproof rating we unfortunately cannot. We advertise them as a heavy-duty sunshade, however they are highly water resistant.
The awing has an additional eyelet in the centre of the canopy, designed to accept an extra pole which can be erected pushing the centre of the awning up, aiding rigidity and helping with water run off, alternatively the one of the legs can be 'cocked' or lowered which will aid water run off.
If the awning is left 'square' in a shower or down pour without a central pole or one leg lowered water will eventually puddle and can stretch the fabric- Please be mindful of this.